MSI GX 620 – a cheap repair of hinges
Hello, in this post I show you how to cheap and quick repair hinges in MSI GX 620. Of course this tip could be helpful to other MSI's but for GX 620 this solution works in 100%. Before making any repair, you must understand that you do so at your own risk
What you need:
6 x M3 screws (with nuts)
WD40
a drill machine
History
These hinges always looked weak. But one fine day just broke away a plastic frame surrounding a screen. And after that, a process of closing/opening lid was very frustrating. On some auctions you can find repair service for your old hinges. But our problems lies somewhere else. The weakest link is the thin metal frame to which hinges are attached and of course a plastic frame surrounding a screen.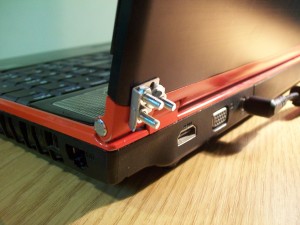 Solution
You have to completly remove screen from MSI GX 620. Remove plastic cover with control buttons of WiFi, camera, power button and remove all necessary screws until… you have only aluminum lid in your hand. Use a drill machine (with 3mm drill bit) to ream a plastic threads through a lid.
We can completly break off unused metal frame ends and screw all things together:
broken off metal frame ends surrounding a screen,
hinges,
aluminium lid
Of course after that the notebook is less attractive, but you can close and open lid again. You can use WD-40 on hinges to make hinge movement smoother.
The total cost of repair = 3 PLN (1 $)